It's not often you'll come across a heavily bearded fellow while watching or playing golf. Whether it's just the type of people who play, or the standards set by the golf course itself, it's a common sight to see clean shaven faces or at least very little facial hair on the greens. Moustaches and goatees seem to be common for the older generation of professional and casual golfers, while it's looking like the younger players are sporting shorter stubble, clean faces, or soul patches. Whether this sounds like yourself, or you're more of a full-bearded guy, we have some great suggestions for you to be able to keep your facial hair suitable and appropriate when going for a nice game of golf with your family and friends.
For guys with a full beard
A great option for keeping your beard full but not too long and unkempt looking is a trimmer that offers adjustable lengths. Generally speaking, you're not going to get away with looking like Grizzly Adams on a private course. Having a groomed and presentable beard is going to get you a lot more respect honestly will give you more confidence in the game. If you're constantly worrying about your beard getting in the way of your swing, of puffing out too much during the day, you're not going to keep your mind where it needs to be. Something like the Panasonic ER-GB40-S trimmer is a great option for you. It has adjustable length built right into the unit, and a cordless design you can use anywhere. Another rival for the Panasonic unit is the Remington MB-200. It features the same things, however a longer length of up to 18mm. Anything with adjustable guards with a longer length is going to be a good option for you. Most of which also include an option to use it guardless to allow you to clean up any beard lines and neck lines. You'll look sharp while your face stays warm.
Goatees, sideburns, mustaches and other detailing
Any units made by Wahl are going to give you the option for detailing and trimming. This is all you need to keep your precise facial hair looking good at all times. Wahl's Peanut model is small but powerful. You can get the tougher areas like your neck line, side burns and behind the ears with no problems at all. Another great option is the Wahl 79300-400 Color Pro unit. It comes with a huge array of length guards, a heavy duty and sturdy motor and blades, and more accessories to keep it working perfectly and get the job done. You'll be making perfect lines and staying sharp and groomed in no time.
Clean shaven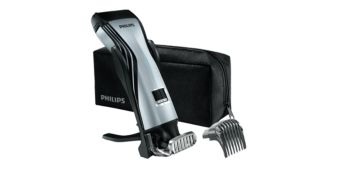 This look is pretty straightforward. Lather up with some shaving cream and go to town with a manual razor. However, not everyone is a huge fan of doing this. If you're looking for an electric shaver to get the job done faster and easier, Philips Norelco's QS6160 StyleRazor Pro and the BG2040/34 BodyGroom 7100 are two models that have both a trimming edge, and a foil shaver edge. You can trim up sideburns or your neckline with the trimmer, and keep your face super smooth with the shaver edge.
No matter what facial hair you grow, just keep presentable, approachable and groomed when you're on the course. Private courses tend to have a few more appearance guidelines than casual courses.